The City of Fremont leaf collection program begins on November 9, 2020. Leaf collection is performed annually in the fall to help prevent leaves from clogging the sewer system, create safe driving conditions, and maintain a clean and healthy city. Crews will work collecting leaves for approximately six weeks, making two complete passes through the City. Should you have any questions, feel free to reach out to the Street Department at 419.332.0696.
Update December 8th
Both crews are working in the northwest section of town.
*Crew one is working in Riviera Trailer Park and will then work from Front to Rawson.
*Crew two is working on the north side of North St. and will likely finish that area today.
They anticipate starting their SECOND round of pickup at the end of next week.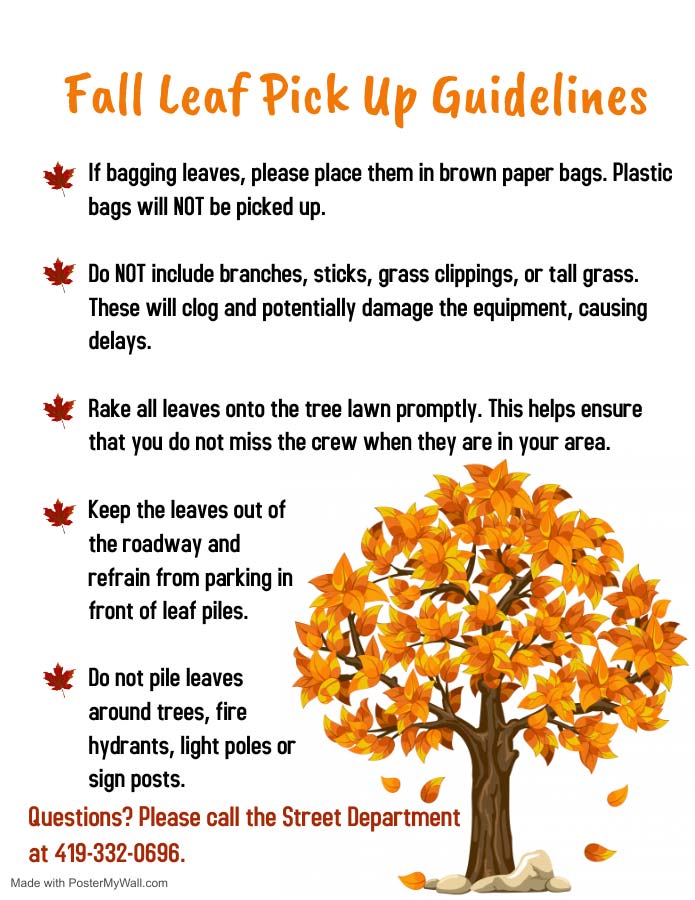 Tree Trimmings, Brush & Christmas Tree Drop-Off Schedule
The City of Fremont has once again partnered with Universal Farms to provide Fremont residents with FREE brush drop-off. Residents may dispose of tree branches, bushes and grass clippings in accordance with the dates and times listed below. Questions concerning this service should be directed to the city Safety Service Director, Ken Frost, at 419.334.2687 or Universal Farms at 419.334.9546. If you cannot use this drop off service you may dispose of yard waste in your regular garbage pick-up as long as you stay within your contract limit. Twigs should be cut to 3 to 4 foot in length and tied in bundles. Proof of Residency will be required by citizens using the drop-off service.
Please contact Universal Farms for additional information, business hours or current rate for drop-offs outside of the above scheduled FREE drop-off times.
DATES
LOCATION
TIMES
March 14, 2020
Universal Farms
8:00am - 12:00pm
May 4 – 8, 2020
Universal Farms
8:00am - 5:00pm
May 9, 2020
Universal Farms
8:00am - 12:00pm
July 11, 2020
Universal Farms
8:00am - 12:00pm
September 12, 2020
Universal Farms
8:00am - 12:00pm
September 14 – 18, 2020
Curbside Collection
(All items to curbside by 9/14/20)
6:30am – 3:00pm
November 14, 2020
Drop-off Universal Farms
8:00am – 12:00pm
Christmas Tree Drop-Off
December 26 – January 31
East Side Park (designated location)
Birchard Park (designated location)
Dawn - Dusk